Utility_Guides
Third Party
Home Made
Selective Folder Copier
Quick Overview:- A utility for copying selected sub-folders that have been modified (or contain files that have been modified) within a set number of days. Simply unzip the download and run from a location of your choice. No registry entries or additional files are created. Feedback or any bug reports would be much appreciated.

Freeware Download
selectivecloner1.zip
(The unzipped SelectiveCloner1b.exe v1.0.0.4 is 16.9kB with an MD5 = 518bea4db7a9091a148d19b14ae57a7e).

Development
Originally designed in response to a query on the PCGuide Forums for a freeware utility to copy a subset of folders based on when they were last modified. The default period has been set at 60 days for the time being, since this was the original request. The period can be edited up to 999999 days.
Limitations
Just tested so far on Windows XP but should work on other 32 bit versions of Windows.
No proper progress meter.
No internal error checking setup yet so if errors or bugs then the program should just bomb-out to the desktop.
Confirmation of available destination space and suitability not yet included.
Screenshot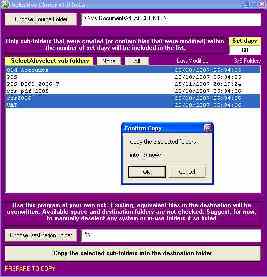 Caution
You will be prompted before copying starts but once started there is no way of instituting any Undo or cancelling the progress programatically.
Use completely at your own risk; there is a link to a Disclaimer at the bottom of the page.
---
Web design by paulski.com - last updated 28th February 2010
Pages best viewed using a CSS2-compliant browser such as Firefox or Opera