Utility_Guides
Third Party
Home Made
DeVowel-n-Strip
Quick Overview:- A utility that can strip vowels, numbers, spaces, punctuation and user-defined characters and a sting of character from input text. No registry entries are made but two ini files are saved (wherever the program is run from) in order to save settings. Feedback or any bug reports would be much appreciated
Quick Start:- Copy some text. Use "Paste Input" button. Copy back the modified text either manually with "Copy Output" or automatically. Go to where you want to use the output and paste back the modified text.
Freeware Download
Version 5 can strip vowels, numbers, punctuation, spaces and custom strings or characters. Drag-n-Drop, Word Wrap and Replace Capabilities (with/without case sensitivity) have been maintained and this version can also be set to remember the settings and texts for the next time.
DeVowel5.zip 18.5kB (The unzipped devowel5.exe v5.0.0.11 is 80kB with an MD5 = cbfce9383604b0d6ca199ef76b54d5a1).
Development
First designed as a vbs script to help bulletin board moderators devowel the text of objectionable material posted by "Trolls", Spammers and similar web miscreants. Its functionability has been extended and the script developed into a VB executable that we find, and maybe you will find, has a number of uses.
The program can also now be set to automatically grab, modify and replace any text already on the clipboard at start up. Both auto-paste and auto-copy need to be enabled and the settings retained for next use for this to take place.
The program may be freely downloaded and distributed as long as this is not done for profit. Acknowledgement of its source would be appreciated.

The now added Drag-n-Drop capability can be useful as long as the target area/application supports it. Any selected text may be simply dragged and dropped where wanted. Some apps will produce cut and paste and others copy and paste and some don't support it at all. Holding down the Shift or Ctrl Keys can modify this behaviour.
One quirk (that we don't think we can control) is that right clicking within the two main text boxes only produces a shortcut menu list if done outside any already highlighted text. Select All and Select None buttons have been added to each text box to help overcome this problem.
Caution
Use completely at your own risk; there is a link to a Disclaimer at the bottom of the page.
Screenshot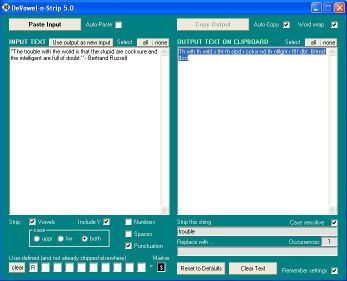 How to Use the Program
First find some text that you want doctored and copy it.
Open Devowel-n-Strip. (Set to "Auto-Copy" if you want the clipboard to have its own content automatically replaced with the modified text as you work: note that with auto-copy turned on that if you happen to clear the text boxes you will also automatically clear the clipboard of its text. "Auto-Paste" only runs at start up if previously enabled).
Input the text using the command button or by pasting or, alternatively, drag-n-drop the desired text into the input area.
The upper and lower case vowels A, E, I, O, U and Y are stripped by default. Y can be excluded. Ten misc. custom characters can be stripped from the input and if wanted marked with a replacement character.
The new output, whenever any filters are changed, shows immediately in the right half of the application as you work.
As well as these custom characters (which can include punctuation marks, spaces and so on) a single custom word or phrase string can also be stripped from the input.
To re-doctor or repeatedly re-filter the output you can click on the "Use Output as New Input" button and then change any of the filters. This allows you to strip a number of words or phrases from the input.
A replace string function and case sensitivity options are retained from earlier versions.
When you are ready you will need to use the "To Clipboard" button if you are not automatically updating the clipboard all the time. Then simply paste the output where you want it used. Alternatively drag-n-drop the desired text to a supporting application area (such as a browser's web form or an MS-Excel spreadsheet cell).
Re-cap for simple devowelling: copy some text - turn auto-copy on - paste into devowel-n-strip - then paste where modified output is wanted.
Old Versions
DeVowel1.zip 7.07kB (The unzipped devowel.exe v1.0.0.3 is 36kB with an MD5 = d42673f9362bac78181f679ef0b07).
DeVowel2.zip 7.50kB (The unzipped devowel2.exe v2.0.0.0 is 36kB with an MD5 = a5550b45ff04de397b47c34fa2b8064a).
DeVowel3.zip 9.96kB (The unzipped devowel3.exe v3.0.0.6 is 44kB with an MD5 = 50fd17ed234edee69ba6c2abb7cb3fe3).
DeVowel4.zip 10.5kB (The unzipped devowel4.exe v4.0.0.2 is 48kB with an MD5 = 7126f8c0ae6bb2e0ef55b509c2be32e2).
Development problems
Initially there were a number of problems when pasting material with auto-copy-to-clipboard turned on and with linking the clipboard to the global clipboard but we believe these bugs have now all been eliminated.
If you are having problems with the replace function then make sure you have downloaded at least version 3.0.0.5. There was a bug where text beginning with the same string (eg replacing fact with factory) would malfunction but has been fixed in 3.0.0.5.
Clear text boxes incomplete clearing fixed in 3.0.0.6.
---
Web design by paulski.com - last updated 28th February 2010
Pages best viewed using a CSS2-compliant browser such as Firefox or Opera