Utility_Guides
Third Party
Home Made
TimeStampNT 2.1
Quick Overview:- A utility for changing the Date-TimeStamp (as well as the four more normal file attributes) of files on NT-based operating systems such as Windows XP. Simply unzip the download and run from a location of your choice. No registry entries or additional files are created. Feedback or any bug reports would be much appreciated.

Freeware Download
TimeStampNT_2.1
(The unzipped TimeStampNT.exe is 64kB with an MD5 = 09cac4ddbbadc959bfcfbaa5310b06a5).

Development
Version 2.1 has a bug fix that now allows midnight to be set as the time.
Originally designed in response to a query on the PCGuide Forums for a freeware utility to change the time/date attributes for files in a specific folder. The first version was not only liable to crash but also needed a way to be able to change the four most common file attributes (ReadOnly, Hidden, System and Archive) which can now be done in the second version.

Limitations
NT Operating Systems only. Just tested so far on Windows 2000 and Windows XP but should work on other NT OSes.
Cannot set TimeStamps on Read Only Files or CDR type media. So the user must manually use the utility to first remove this attribute from such files.

Can only change the attributes of files and not of folders. Cannot even see Hidden Folders so these must first be unhidden from My Computer or by using the Command Prompt; (attrib -h -s -r "folder_name" or "path_to_folder_name")

Packet-Writing (eg Nero InCD) formatted CDs not tested.
Resets all three timestamp attributes (a) Created (b) Modified and (c) Last Accessed to the same new value.
Caution
You will be prompted before changes are made to any files but once that has been OK'd note that there is no way of instituting any Undo. Of course if you note any original values then these should be able to be re-applied.
Use completely at your own risk; there is a link to a Disclaimer at the bottom of the page.
Screenshot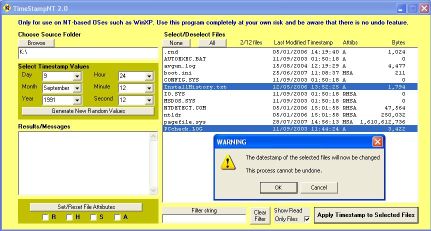 ll
Old Versions
MD5 values relate to the exe inside the zip files.
Version 2.0.0.9 (64kB MD5=0c2c5944b38fc0252d740cf7f0ff9402).
Version 2.0.0.8 (52kB MD5=46fea550bddf923f225fbab5f74359d1)
Version 1.0.0.0 (32kB MD5=cf2f7c50ff8f530e21aad4d9748c9a39)

---
Web design by paulski.com - last updated 28th February 2010
Pages best viewed using a CSS2-compliant browser such as Firefox or Opera